Suits
• After use, your suit should always be hung on a hanger with broad shoulders. This ensures your suit maintains the perfect fit and cut. You can also hang the suit in the included suit holder to avoid dust and dirt, but leave the suit holder closed so the kit is still airy. • Undesirably, if you are unlucky enough to spill something on your suit, try removing the stain with a slightly damp cloth. Be aware that brushing can destroy individual strands of raw material, causing the fabric to begin to fray. • The suit needs to be cleaned sporadically, even if it is not visibly dirty. Use a professional laundry for best results. UOY recommends cleaning with co2 (dry cleaning) so you can be sure your suit receives a good, eco-friendly care. Jackets should be cleaned no more than 1-2 times a year and pants no more than 2-3 times a year. What wears a suit out the most is actually when it is sent out for cleaning. • Be sure to give the suit 48 hours of rest between each use so that the wool yarn will return to its original shape before the next use. A suit that cannot rest between use will have a significantly shorter service life. This is because the strands of fabric are constantly exposed to stretching and will eventually sag in particularly vulnerable places such as the elbows, groin and thighs. • Under no circumstances should a custom-made UOY suit be placed in the washing machine or dryer!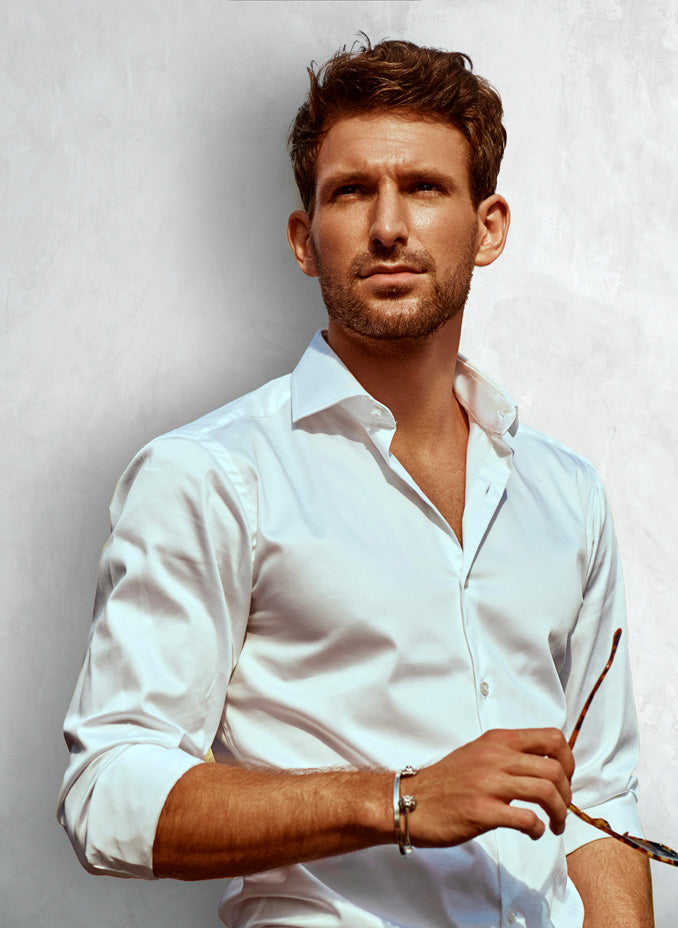 Shirts
• Shirts should be hung on a hanger after use. Make sure you use a good hanger, preferably one with broad shoulders, and avoid the thin metal hangers you bring from the laundry. • Shirts should be slightly damp before washing and it is best to wash them at 30 degrees, maximum 40 degrees. • Shirts, especially pale ones, look better for longer if they are washed exclusively with same colour shirts or light blue shirts, etc. • Shirts are easier to iron after washing if they are left to dry on hangers with wide shoulders and collar, cuffs and bottom edge well stretched by suspension. • All our shirts can, of course, resist being ironed, but they must not be subjected to extreme heat for long periods of time.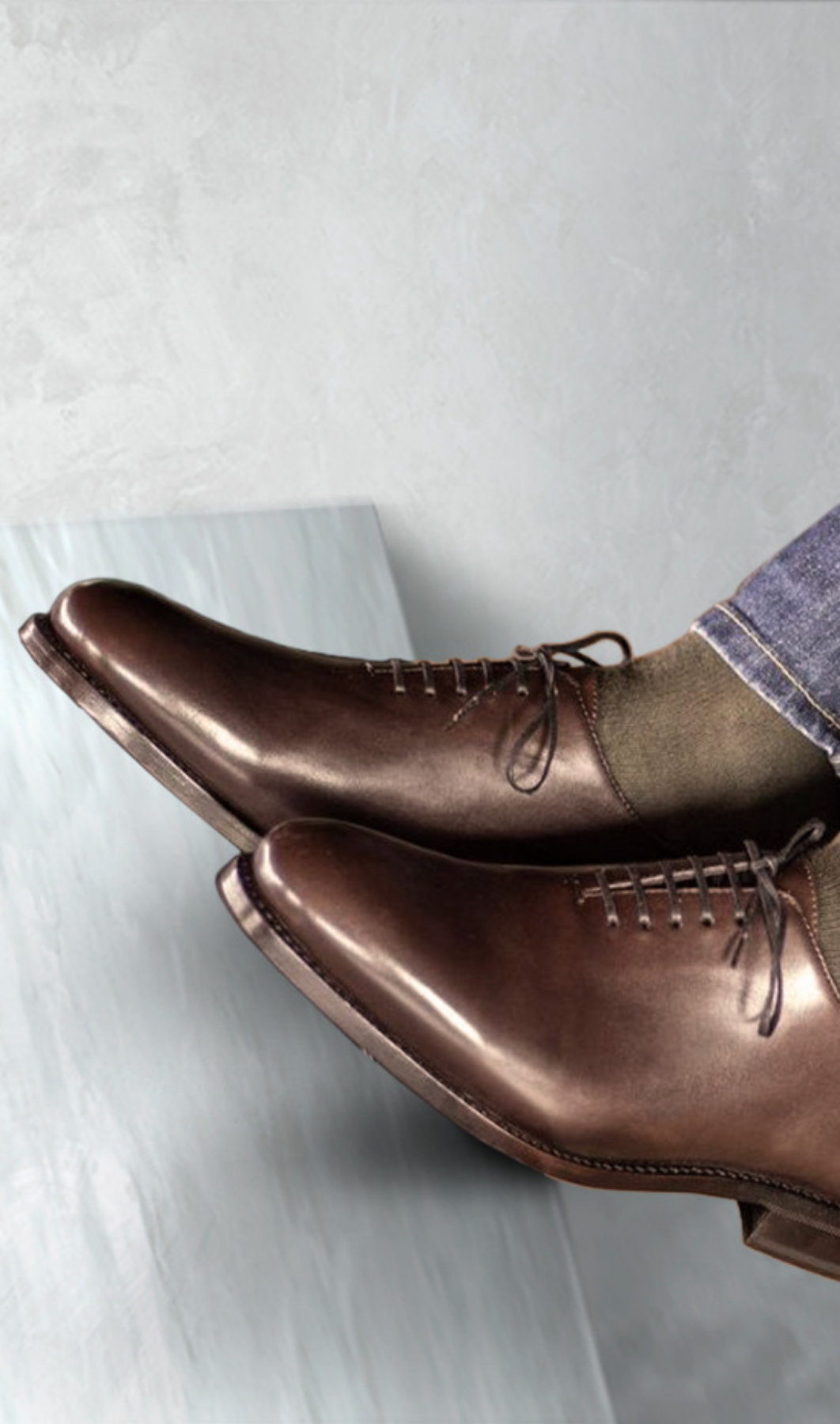 Shoes
• Leather shoes are one of the most complete pieces to wear because, over time, the leather adapts itself to your foot. However, leather shoes also require more care, but if you care for and maintain leather shoes properly, you can significantly extend their lifespan! • If your leather shoes are dirty, remove the dirt before shining them. For example. with a well-wrung cloth or a soft brush. Do not wet them completely, for example by placing them under the tap. REMEMBER that the suede must have waterproofing specially made for suede and it DOES NOT tolerate water. Instead, use the suede brush and re-impregnated. • After removing the dirt, let them dry (if you used a damp cloth) and use them with cream or shoe polish. A care product that matches the color of the shoe gives the best result, but a neutral coloured grease is also excellent. • Finally, shoes should be polished to remove excess color and obtain the best result. The best result is achieved using a soft shoe brush, but a dry cloth or nylon stocking can also solve the problem. • If you find your shoes getting wet in the rain, fill them with crumpled newsprint when you get home. Paper absorbs moisture while maintaining the shoe's shape. Do not dry fur shoes in the radiator or with a hair dryer as there is a risk that the heat will dry out the skin or cause it to crack.